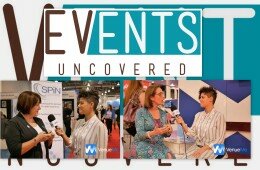 Why do people go to events? To learn and to network.
While at IMEX America I asked a few experts the question and this is what these amazing guests said:
Thank you to:
Tracey B. Smith was a corporate meeting planner for a high tech company for more than 15 years, focusing most of her time on developing engaging programs for the company's user group community. She joined SPIN in 2010, and in 2011, Smith worked with SPIN members to develop the award-winning program for the first-ever SPINCon North America.
Marti B. Winer was Vice President, Communications & Events for Wyndham Hotel Group from 2007- 2014. She aligned the company's strategy with global communications, as well as managed all events. She is now the Chief of Staff at Drew University.
What do you think? What do we need to consider in order to improve education at events? Is it the format, the content, the speakers, the layout? What would help you? Why would you attend an event if you could get all of your 'knowledge' online?
A Big thank you to our sponsor VenueMe: http://www.venueme.co/
Tweets by @EventsUncovered