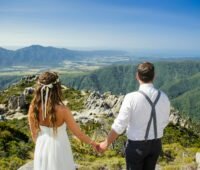 What's a destination wedding?
With a growing trend from couples wanting to escape the demands of a traditional wedding the world is booming in the wedding resorts industry which are often glorified registry offices with couples waiting in a queue for their time slot but there are also other options from the lavish to boutique celebrating nature, combining activity, relaxation and/or intimacy.
A destination wedding can be combined with your honeymoon adventures and couples often chose the once in a life time experience (OE) and the savings gained by avoiding a big white wedding can be invested with extended time out to travel and relax.
As attitudes change where couples often have a home together and in some cases even a family, we also find small groups travelling together with only direct family attending on a quiet beach in a National Park or beauty spot. We have also found an increase in baby boomers choosing to get married late in life or have been married before and looking at a second chance, either to marry again or re-affirm their commitment for a second time. These locations are often places that only the couple attend with professional witnesses arranged, such a mountain tops or remote woodlands for example. It's also become popular to combine the marriage with an activity, such as a day out Kayaking or a sky dive for example.
10 tips on how to get married in New Zealand, with some added dos and don'ts:
In New Zealand we are lucky to be one of the few countries with a very short requirement for couples to be in the country before they get married with a minimum of three days, Although this is recommended unless you are completely sure all your paper work is in hand, however much of the paper work can be planned in advance to minimise any complication or further delays. For further information and applications visit BDM New Zealand.
Making arrangements from a far is not only time consuming, difficult with time zone differences and un-certain when employing products and services it is suggested you find someone who can manage your location and event, someone who is well appointed and highly recommended by other couples and service providers.
New Zealand has few rules or restrictions to where you can hold your event and options vary from private properties, Council and Department of Conservation property (National Parks). It is important you do your research on your chosen property or make sure the person you employ to manage your event location has the necessary documentation and permits, again saving you time, money and worry.
Budgeting can be extremely difficult, getting written quotes is a must to ensure you won't get confused with costs and Goods & Service Tax (GST at 15%) which over $1000 can mount to quite a lot. A good manager will help you follow budget adding confidence when recommending other professionals.
Contact a Registered New Zealand Celebrant However it's advised that you check that they can offer you what you need. It is suggested that a good celebrant will be a member of the Celebrants Association New Zealand. (CANZ)
New Zealand was the thirteenth country to legalise Same Sex Marriage and is mostly welcoming but it is good to do your research beforehand to save disappointment on arrival.
Its advised to find someone who can manage your event with a well-established team of co-ordinators and providers within the locations they are experienced in, someone who is well appointed, highly recommended by other couples and service providers.
Whatever your travel and accommodation plans consider splashing out on your honeymoon night. Look for a place that makes you feel great, romantic and offers you privacy to relax at the end of the day with a glass of your favourite tipple on a terrace while the sun goes down.
Plan B' must be considered when planning and filling in your intention to be married, the weather is one thing none of us has control over. A good planner will ensure time and attention is spent should Plan B be called, making sure that it's as beautiful as the Plan A option. By booking an accommodation approved by your manager they can normally negotiate a plan B option without too much fuss or further costs.
Capturing your memories is something that most couples will want to have, either in video or photographs, holding your ceremony in another country can provoke disappointment from family and friends, so having a video or great photos for a slide show to enjoy later when you get home to share with family and friends, completes the picture and I have never heard of anyone being disappointed and in most cases my couples tell me that their family and friends completely appreciated their decision after seeing their day unfold, combined with your stories, flax or silk flowers which can return home with you.
Terri Everett is the owner, Celebrant & Event Manager at The Dream Maker. To get in touch with Terri, go to