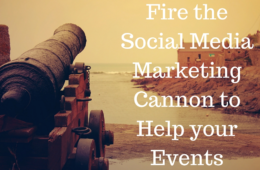 There is no single strategy that will make your event a roaring success.
You must employ different mediums and have more than one trick up your sleeve to gain the necessary traction. Social media is undoubtedly one of the most important platforms at your disposal and you must fire the canon to help your events.
Here are a few reasons why you must work on social media marketing to promote your events.
The first objective of promoting any event is awareness. You must be able to spread awareness, get exposure and people should be able to know at length what your event is about, what it can do for them and how they can participate. You can devise email marketing strategies, text and mobile marketing, direct mails and a plethora of other traditional or unconventional ways. Social media doesn't contradict any of these approaches. In fact, social media will only amplify every other medium. Nothing is isolated from social media today. For optimum exposure and widespread awareness, you must advertise or at least talk about your events on social media.
An event needs to be desirable. That is the secret behind the success of all major events, be it the music festivals around the world or the beer fiestas. Social media marketing will help you to influence your target audience to sign up for the event. When people talk about an event on social media, others get influenced and your event will become desirable. Make it a compulsion and most people will shun your events but make it desirable and people will flock to your show.
Social media has a high possibility of making your event go viral. It doesn't have to reach a million people. Even if you can cover the entire immediate market or target audience, it is mission accomplished. Should your event, its news or even its broadcast go viral, imagine the kind of traction you would get. You would not only get more traffic and people will talk about you but you would also get more business in the near future. While it is true that you cannot predict the viral nature of social media, just consider the fallout because it is in the realm of possibility.
Finally, social media marketing can increase your returns on investment. Even if it cannot make your event go viral, it will make your event more successful than it would have been otherwise.