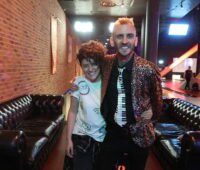 VLOG ALER: #Vlog5: Rock&Roll GameShow ft. Song Division.
I was invited and sponsored by Song Division to attend Rock&Roll GameShow at the Brooklyn Bowl on Tuesday the 25th October.
What a night it was! There were about 80-100 people divided in teams. It started at 7pm with a round of fun games.
The games lasted for about 45 minutes and the, there was a gap until 9pm. In that time, guests ate, drank, networked and played bowling.
At 9pm, the game started again and the 3 best teams were announced. All they had to do to win, was to dance. Yes, a dance off.
After the event was over, the band played a few more songs, and people carried on having a good time.
What did I love? PEOPLE/ATTENDEES/PARTICIPANTS (however you want to call them) WERE REALLY INVOLVED.
Talk about nailing ENGAGEMENT at events!
Special Thanks to:
Sam McNeill, General Manager: Song Division UK
Stuart Fraser, Event Sales Director: Brooklyn Bowl
Do you want to know what happened there? Check it out:
If you enjoy it, please GIVE IT A THUMBS UP!..oh, yeah..and subscribe to my channel: EventsUncoveredTV