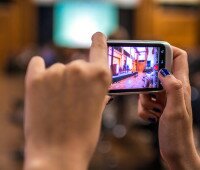 HighQ published an infographic that demonstrated the value of video. Titled " : The Year of Video Marketing" the infographic provides compelling reasons as to why video, if it's not part of your content strategy yet, should be, including:
50% of all mobile traffic is attributable to online video
80%+ of senior executives are watching more online video than the year before
75% of business executives watch work-related videos weekly
And if that doesn't convince you, this stat should. 96% of B2B companies plan to include video in their marketing plans – which means if you don't, your competitor is. Though, producing video content isn't enough. Per a Forrester study titled, Branded Video Marketing Success Starts With Customer-Centric Distribution (Samantha Merlivat, October 16, ), the age of videos going viral organically are over. Aligning how you distribute videos based on your strategy, goals, and audience is just as important in driving views and key results.
Product Your Videos Based on Your Goals
It's important to understand your goals and metrics for the type of videos your producing. For example, the goal of a product video would be driving inbound sales leads while a tips and tricks video would be to increase your thought leadership through online shares. Once you've determined your desired action, then begin building your video content strategy accordingly.
Incorporate Video Into Your Existing Marketing Programs
Once you've produced your videos, evaluate your existing marketing programs. Video can easily and quickly be added to existing email nurture paths, demand generation or event marketing campaigns. For example, just including the word "video" in your email subject lines can increase open rates by 19%, click through rates by 65% and reduce unsubscribes by 26% (Syndacast, Video Marketing Trends , July 31, 2014)! From a thought leadership and reputation building perspective, your video content may be of interest to existing industry influencers, media or subject matter experts. The recipient may comment, share or incorporate your video in their next article, expanding the audience for your content.
Make Your First 5 Seconds Count
Nowadays people use their senses to watch videos. Taking cues from a Think with Google article regarding YouTube ads, how you produce the first few seconds of your video can impact if a viewer continues watching:
Brand placement – a floating logo isn't enough to increase brand recognition. In this case, viewers may quickly move on to the next video. Rather, incorporate the brand as part of the product or video content.
Tone matters – overall, humorous ads increased viewership, ad recall and brand recognition. While humor may not be possible for all B2B videos, having "suspense" or "emotion" can increase effectiveness.
Optimism – people like smiling faces. Involving individuals who are "happy" and "smiling" will keep people watching
Conclusion
In James L. McQuivey's Forrester report, How Video Will Take Over the World, it states that "video content is worth 1.8 million words per minute."
Whether or not you agree with the claim, it's no longer about whether video can positively impact your marketing programs. It's about how. As you build out your content and event marketing strategies for 2016, don't overlook video.
Cece Salomon-Lee has over 15 years experience building and implementing successful communications and marketing strategies for Fortune 500 and technology companies. She writes PR Meets Marketing blog, which highlights Cece's thoughts on how to attract and delight customers through content, video and social media marketing. She is currently the Director of Product Marketing, Lanyon Solutions Inc. Her views are not reflective of her company's. To get in touch with Cece, go to @csalomonlee