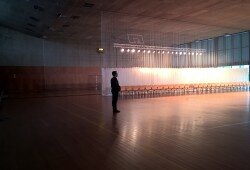 The two most important elements that would influence the cost of hosting an event are the total space requirement and the services you expect the venue to deliver.
The sheer square footage or acreage and the food, furniture, peripheral support along with any décor or associated services will determine the larger chunk of the cost. When you deal with a sales or revenue manager of a hotel or any venue, you would be asked to answer a space request. You cannot be random or generic with your answer. You must furnish as much detail as you can so you can get an accurate estimate. It is also going to help the venue as they would be aptly prepared to cater to your needs.
Here is how you should approach answering a space request.
First, calculate the number of guests invited for the event. There will be more people who would be part of the event and not exactly guests. You have to factor in that count as well. You should do the math of how many would not turn up and how many additional people may turn up. Very few events get a footfall as estimated. The numbers can fluctuate quite a bit. Unless you factor that in, your event could become a cramped affair or you could have large spaces completely empty making the event look like a desolate place.
You need to consider the type of event it is. Some events will require the guests to sit and participate, some will need to have enough space for attendees to walk around and mingle, some may require both and some events will need to be as expansive as they can be to facilitate myriad types of correspondences. Explaining the type of event will allow the sales or revenue manager of a hotel to truly understand your needs. Accordingly, you would be informed of the kind of space you need.
You need space for equipments and anything that you have to set up at the venue. From a stage to the furniture, the technical equipment to special lights if needed and a plethora of peripherals that are necessary to make the event happening and well provisioned. You shouldn't skip any resource that is necessary or desirable. These will take up a substantial space and that must be accounted for right at the start.
Finally, consider any additional requisites that you may have. For instance, you may want to have some space for some stalls to be put up, some demo booths and the likes.