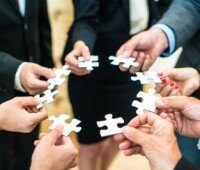 Ideally, you want team building exercises to accomplish two things: You want to give your employees the opportunity to bond over fun, engaging activities. At the same time, you also want these activities to build strong collaborative spirits and attitudes towards your business.
In other words, bringing your team together in one way can lead to benefits in other ways.
There are a number of ways in which team building can help you to build a more collaborative approach to business. If you're not taking advantage of these benefits, then you could in fact be depriving your team of a significant method for improving the quality and quantity of their collaborations with one another.
The Collaborative Benefits Of Team Building
At the end of the day, you want to increase communication. More to the point, you want to increase meaningful, ambitious communication amongst the members of your time. This means that your employees trust each other enough to make suggestions, or exchange ideas in a proactive fashion. Without strong communication amongst the members of your time, you just won't be able to watch your time achieve its true and absolute potential.
Team building can help to establish that communication. Take a look at some of the best team building activities currently in popular use, and you're going to note a range of similarities amongst all of them. All of them emphasize greater communication. All of them also seek to establish trust and good faith amongst your employees. When these things are firmly in place, you're going to notice a variety of benefits in other aspects of your actual business. In the first place, you're going to see your employees more eager than ever before to engage one another in a collaborative way. At the same time, you're also building greater degrees of company loyalty, which can prove to be a powerful, significant force, when it comes to establishing strong collaborative bonds.
Take the concept of team building seriously. Look for ideas and activities that you know your employees are going to enjoy doing together. Look for things that are going to help you to achieve the goals you would like to see your team achieving. When you have activities that are fun, yet also seek to teach company loyalty and collaboration, you're going to notice a decided improvement in both the quantity and quality of the collaborations amongst your employees. Obviously, this improvement will lead to breakthroughs and major growth.