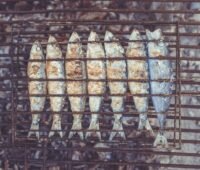 As the holiday season fast approaches, so does the need for great new recipes. While holidays are the same each year, your dinner parties don't need to be. If you are trying to plan your next holiday party, consider these five festive food trends.
1. Make the Ultimate Sandwiches
Our first trend this holiday is the ultimate holiday sandwich. Think less giant dinner and more American diner. These sandwiches are far from the typical peanut butter and jelly. Get your favorite meat and dress up your sandwich with all your favorite holiday fixings. Instead of going big with your favorite holiday meat, opt for sliced alternatives to make sandwich making easier.
2. Try All Things Ramen
This trend involves taking ramen to the next level. Consider mixing ramen with Chex Mix, pretzels and other chips for a festive appetizer. Ramen noodles can be used as part of stuffing or in place of breadcrumbs for your meal. Holiday soup is also an option for your festivities, so don't shy away just because it's ramen.
3. Get Funky with Fungus and Fermentation
Expect to see a lot of fungus this holiday season. Since fungus and "foraged" foods are in, be sure to pick up some extra mushrooms and other fungi. Fermentation is a trend that experiments with the process of storing food in vinegars. Fermentation adds an extra kick to the texture and taste of food items like pickles, sauerkraut. beans and other vegetables.
4. Try Charred, Smoked and Grilled Food
When it comes to the best meals, having anything grilled, charred, or smoked never really goes out of style. Get your favorite meats like fish, beef, or chicken and try one of these methods. Smoking is great with fish, charring goes well with bacon and grilled chicken is always a favorite.
5. Go Gluten Free
While gluten free food is not really a trend, having gluten free options is always a welcome option to guests. If you have never tried gluten free foods before, think about trying some for yourself. Try using quinoa in your favorite holiday recipes to replace flour. Festive quinoa cranberry scones and quinoa pumpkin salad will all be new favorites with your guests.
These five festive food trends are just to get you started on your holiday planning. Use them as a springboard for creative meal making as you prepare to have a happier and healthier holiday season this year.
catering
,
eventprofs
,
food
,
gluten free
,
grilled
,
ramen