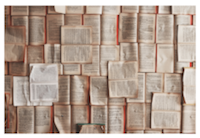 Creating a knowledge base may seem like a scary prospect. How do you gather everything that your customers want to know about your products or services, and put it in a format that's useable and efficient? But a thoughtful knowledge base creation process can be a worthwhile exercise—even if you fill in the blanks gradually and as time allows. That's because a knowledge base empowers your customers. It gives them the tools to use your company's items more thoroughly, to solve problems, and to mitigate frustration. All of those can in turn cement brand loyalty. And creating a knowledge base is not, nor should it be, a hodge-podge process. It does involve you analyzing the types of information you can provide, be they articles, forums, dictionaries, whitepapers, and more. It also involves you figuring out a structure that makes sense and is easy to navigate. For example, some pieces may relate directly to one another, or may prompt more learning on the part of the customer, provided you have the right knowledge base connections in place. Want to learn more about creating or fine-tuning your own knowledge base?
Follow the steps and insights in this graphic:
We're the innovative company behind the world's #1 CRM platform that employees can access entirely over the Internet — there's no infrastructure to buy, set up, or manage — you just log in and get to work. And now our new Lightning Platform gives you the fastest, most complete way to put your customers at the centre of everything you do.
Get more info: https://www.salesforce.com/hub/service/create-knowledge-base/