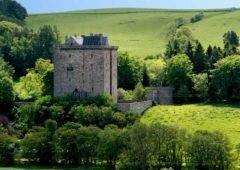 "I come across many clients who are fed up with events at run-of-the-mill hotels." The Castle Man explains how a little bit of creative thinking can make an event stand out: "Buildings that are out-of-the ordinary, steeped in history or have an amazing back-drop have always been a popular choice for original and engaging corporate events. The challenge is that they can be more challenging to work with as they are not purpose-built" says Roger Masterson.
Clients want their events to stand out so when guests receive an invite it can create a type of wonderment; they are looking to create a buzz with fantastic appeal. In a world were attendees are bombarded with information hourly, something special needs to stand out and grab their attention. That is where a historic castle or stately home can generate intrigue.
Castles are more suited to certain types of events. A small seminar or meeting does not need an excessive fanfare, whereas a product launch, end-of-year corporate event or ball calls for much more flair and razzmatazz. Organisers who are looking for the "the WOW factor" for larger events will be happy to put more time into a creative space.
"A great advantage with unusual venues is that you can customise and create a memorable experience that emphasises this WOW factor; the venue can also reflect the message or culture that the event needs to get across" says Masterson.
What questions should clients ask venues like this before booking?
Preparation is key and, before you begin your search, there are a few things you'll want to have a strong understanding of: Your budget; number of attendees and type of event/ambience you want to create. Have a full specification that you can give venues so that they can price this accurately and let you know if they have everything that you are looking for. Dates are key; be aware that some castles will be booked up 2 years in advance. I come across many event planners without specific requirements and with poor lead times; this just creates inefficiencies during the planning process.
If the costs and numbers stack up, the next question is when can I visit? This is so important as you need to get a proper feel for the property or, if you have short-listed a few locations, make the time to view them all so you can compare and contrast. It may be useful for two people to visit, as two will pick up on more of the detail. Remember that preparation is key to any successful event.
If you can stay overnight and experience the service and ambience, this is important and can make a big difference during the event. Have a meeting when you arrive and, if you stay over, another when you leave – it could just be a coffee and recap. This will build rapport with the key members of staff at the castle and allow you to cover off any additional points you pick up during your stay.
In addition to the appearance of the property, it is also important to take into consideration the services and amenities that the venue offers. Room layouts, set-up and staff support, AV capabilities, whether these are in-house or contracted in etc.
Once you have discussed everything for your event, produce a working document for the property and your team so everyone is in the picture, and highlight the key areas of responsibility.
Roger Masterson is the founder of Celtic Castles, the award winning online castle-booking company, based in the heart of Yorkshire in England. He is best known as "The Castle Man". Nobody in the world knows more about staying in castles than Roger. He is a serial entrepreneur; he helps business owners to think differently. He is at his best as a disruptive thinker and believes you learn more from things going wrong; he understands the difficulties of losing a business. To get in touch with Roger, go to @The_Castle_Man